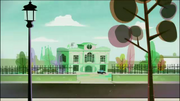 Luckpuig residence is a major location in Lucky Fred series and as its title implies, where the Luckpuig family lives.
Interior
Common room
The common room serves as both the living room and dining room. The living room has three windows, a TV set, a closet, sofas with a glass tea table and is connected to the house entry by one side and to the kitchen by another. The dining room is also merged with the living room and has a table with four chairs.
Kitchen
The kitchen has a tiled blue-white floor, two windows, a fridge, an oven, a table with two chairs, cabinets, dish washer, washing machine and two doors which one of them leads to the backyard and the other leads to the living room.
Basement
This room was only shown on Episode 25 and is also a place where Fred's parents practice like sparring.
Fred's room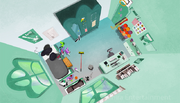 It is where Fred and Friday often hang out. It has two windows, a desktop computer, a closet (which Friday usually sleeps in) a bed, a nightstand with a boombox on it and a lot of posters hanging on walls.
Mr. and Mrs. Luckpuig's room
This room was never shown in the series.
Bathroom
The bathroom has one window on the left wall and a radiator next to it, a bathtub with curtains on the left side of the door, a toilet, a washing sink with a mirror and a lamp attached to its top.
Exterior
Gate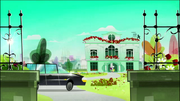 The gate of the house is next to the Robeaux residence and has green walls with black bars on it and leads to a grey path. the entry of the house has light green Dutch doors, two cyan- white colored columns and two dark green windows facing left and right.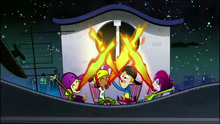 Rooftop
The rooftop is only seen in two known episodes of the series, as these include:
Weather Boy
Science Unfair
Lawn
Community content is available under
CC-BY-SA
unless otherwise noted.